A leader in USB systems, NXP® helped define the Type-C specification. This gives our engineers a keen understanding of Type-C implementations such as this USB active cable, complemented by a solutions portfolio fully equipped to support every aspect of Type-C design.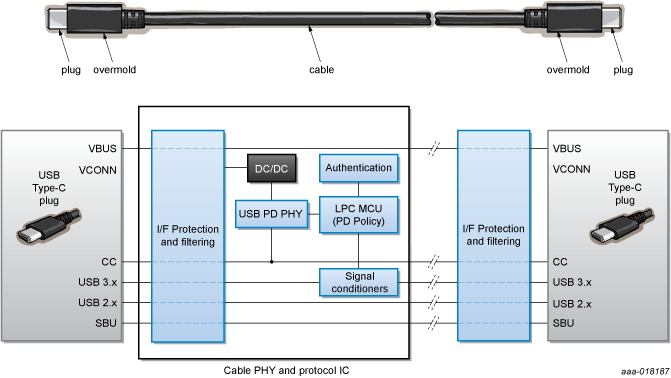 Billed as the 'last connector', the USB Type-C standard allows multi-function signalling (e.g. USB, Display Port, etc.) over the same connector. Our active cable application supports this seamless connectivity of data, video, security and power over a single connector. Our application design illustrates an active cable system for Type-C, in which signalling up to 5 Gbps USB3 is possible – and up to 20 Gbps is anticipated!
The MCU provides fundamental signal processing and management duties. It communicates with both the signal conditioner and USB PD PHY to organize signal traffic and power flow.
Boosting signal transmission, the USB conditioner, or redriver, plays a crucial role. It can improve the signal eye diagram, extend the link distance and help pass the compliance test. They are typically in single, dual and quad channel configurations (and available in different packages). High performance features including programmable equalizer and amplitude settings allow tailored designs.
The responder ensures correct and efficient power delivery (PD) for charging and supply applications. It handles communication of product and/or cable capability information via PD protocol signal. It also provides Alternate mode support to transport non-USB data over Type-C.
An authentication IC is used to confirm the authenticity and capability of the cable, allowing devices to make informed policy decisions about which features can be safely enabled. For example, a system may want to authenticate a power supply and cable are trusted before enabling high power charging, to prevent damage that can be caused by counterfeit products.
NXP also provides ESD protection and EMI filters to ensure the highest quality signaling while preventing damage that can occur when ESD or cable discharge events occur.