EINDHOVEN, Netherlands, and Sydney, Australia, Nov. 3, 2016 --NXP Semiconductors N.V. (NASDAQ: NXPI), today announced a software agreement with Cohda Wireless, a leading software specialist for secure automotive communication applications. The agreement gives NXP full access to Cohda's industry leading algorithms for the rapid development of V2X standard enhancements and additional applications.
Under the new agreement, NXP can provide its customers with enhanced firmware for its NXP RoadLink™ chipset. The streamlined software licensing allows NXP and Cohda's joint customers to speed up V2X and Connected Autonomous Vehicle (CAV) developments to meet the needs of shorter time-to-market and even more secure solutions.
NXP and Cohda Wireless enable NXP V2X systems to securely communicate important driving information between vehicles for safe decision making. Several of the key capabilities of V2X systems, such as "seeing" around corners and electronically platooning vehicles, benefit from Cohda's innovative software. The development of secure and reliable V2X technology is a crucial part of achieving highly automated driving even when no other communication network is available.
In January 2013, NXP, together with Cisco, acquired a stake in V2X and CAV software leader Cohda- combining forces to advance Intelligent Transport Systems (ITS). NXP/Cohda RoadLINK™ technology and Cohda's V2X software applications are already being incorporated into first production vehicles, such as General Motors', via Delphi's V2X communications platform.
The completion of this contract highlights the strong and ongoing relationship between European technology companies and the Australian technology sector. The agreement was signed in Sydney, Australia with King Willem-Alexander and Queen Máxima of the Netherlands in attendance, as part of their official state visit to Australia.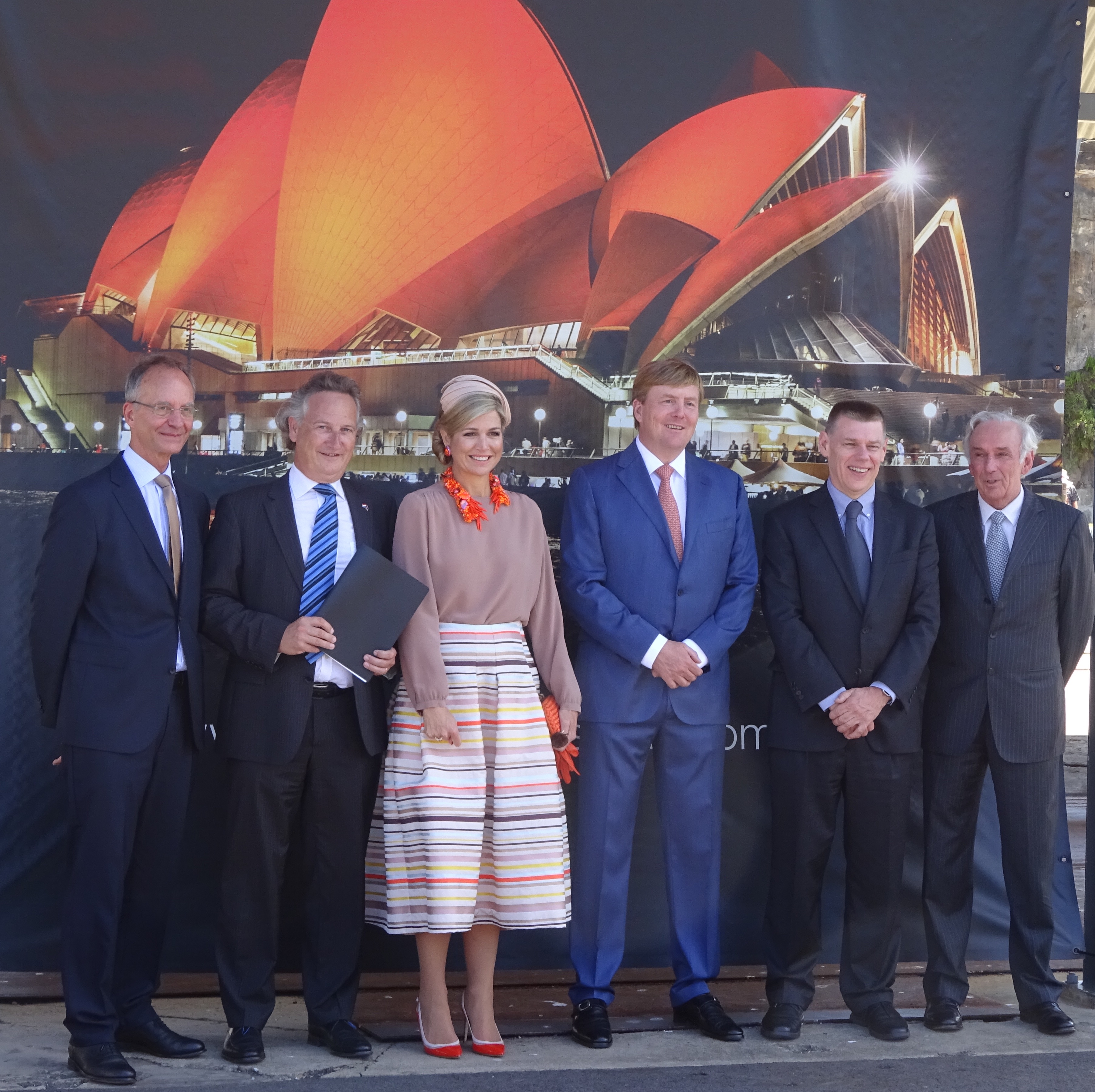 From Left: Henk Kamp, Ministerof Economic Affairs, The Netherlands; Maurice Geraets, NXP;
QueenMáxima and King Willem-Alexander of The Netherlands; Paul Gray and Chris Beare,Cohda Wireless
Quick Facts:
NXP/Cohda RoadLINK™ technology is the solution of choice in more than 60 percent of all test vehicles used across the globe in V2X field trials. It has completed more than 1 Million test days to date.
At Electronica Trade Show 2016 this week in Munich, NXP will showcase V2X technologies together with partners DAF Trucks, Siemens, Honda, and others. LINK
Quotes:

"Making driving safer and more secure is a passion we share with Cohda Wireless," said Torsten Lehman, senior vice president car infotainment and driver assistance, NXP, and a member of Cohda's board of directors. "This software agreement will allow NXP to fully leverage the Software Defined Radio capabilities of our V2X platform. Owning the firmware and adding NXP algorithms will further increase system performance as well as reduce development cycles for our joint customers."
"We are very pleased with the ongoing relationship with NXP," said Paul Gray, CEO of Cohda Wireless. "By collaborating at the chip level we are able to rapidly create innovative new features for the V2X and CAV vehicles of today and tomorrow."
About NXP
NXP Semiconductors N.V. (NASDAQ:NXPI) enables secure connections and infrastructure for a smarter world, advancing solutions that make lives easier, better and safer. As the world leader in secure connectivity solutions for embedded applications, NXP is driving innovation in the secure connected vehicle, end-to-end security & privacy and smart connected solutions markets. Built on more than 60 years of combined experience and expertise, the company has 44,000 employees in more than 35 countries and posted revenue of $6.1 billion in 2015. Find out more at www.nxp.com.
NXP and the NXP logo are trademarks of NXP B.V. All other product or service names are the property of their respective owners. All rights reserved. © 2016 NXP B.V.
For more information contact:
Europe
Martijn van der Linden
Tel: +31 6 10914896
Email: martijn.van.der.linden@nxp.com 
Greater China / Asia
Esther Chang
Tel: +886 2 8170 9990
Email: esther.chang@nxp.com